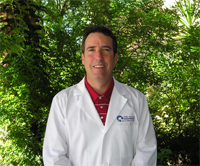 Dr. Luis A. Cueva, Jr. was born and raised in Guadalajara, Mexico where he also received his dental doctorate degree. Because of a strong interest in orofacial pain disorders and a desire to help others, he went on to complete a fellowship in orofacial pain at UCLA Medical School. This additional training focused on head and neck, jaw and TMJ pain. He has done clinical research in these areas and has co-authored articles on headache and myofacial pain.
Dr. Cueva is an active member of The American Dental Association, The American Headache Society, The American Academy of Orofacial Pain, The American Pain Society and is a Diplomate of The American Board of Orofacial Pain. His practice has been limited to TMJ Disorders and Orofacial Pain management since 1988. Dr. Cueva is also a member of a pain specialists group that has a satellite office in Yuma, Arizona where he travels to see patients once a month.
On a personal note, Dr. Cueva comes from a large family of six brothers and sisters. Family and community are important to the Cueva's and he and his wife Nora devote much of their time attending their two sons' different sporting activities at school, as well as spending time with their relatives abroad. When he is not busy with family, Dr. Cueva spend time volunteering in community activities as a member of the Conquistadores and serves on the St. Joseph's School Foundation. When he finds any additional leisure time, you will most likely see him on a golf course somewhere.